Annotation Tools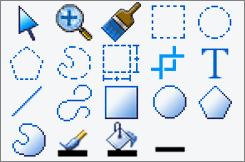 Tools are provided for adding text, lines, arrows, polylines, freehand curves and two dimensional shapes to your images. Two dimensional shapes, including circles/ellipses, rectangles/squares, polygons and freehand drawings, can be filled or left unfilled. Text annotations can employ any Windows font at any size. You can set left, right or center justification for text annotations. You can specify line thicknesses and colors for all of the drawing elements.
Images can also be annotated with other images, to add, for example, an inset to an image or to add your logo.
In addition to the standard annotation tools, PCI also includes a set of measurement tools.