Other Instruments
Using techniques such as hot folder monitoring, PCI can bring in images from virtually any image producing device. PCI supports importing images in a multitude of image file formats.
Video
Color or monochrome images can be captured from any video source.
PCI displays a live video window on the computer display for easy focusing and adjustment of the image.
Digital Still Cameras/Scanners
PCI supports the popular TWAIN standard.
Images can be acquired from most scanners and digital still cameras.
Direct to Digital Instruments
Software is available to facilitate the transfer of images from instruments, both Windows®-based and non-Windows®-based, that produce digital images directly, such as:
AFMs
PC-based SEMs
FIBs
Acoustic microscopes
and more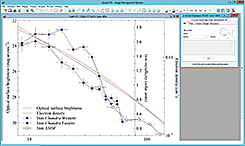 Charts, Graphs, Spectra
Users of the Quartz LIMS systems can use the PCI Virtual Printer Driver to "print" data from any Windows software into the PCI database.